Additive Manufacturing Technologies ("AMT"), a portfolio company of 15th Rock Ventures, in collaboration with OECHSLER AG ("OECHSLER"), a leading manufacturer of components for automotive and medical devices, has developed a new fully automated system for the post-processing step of 3D printing.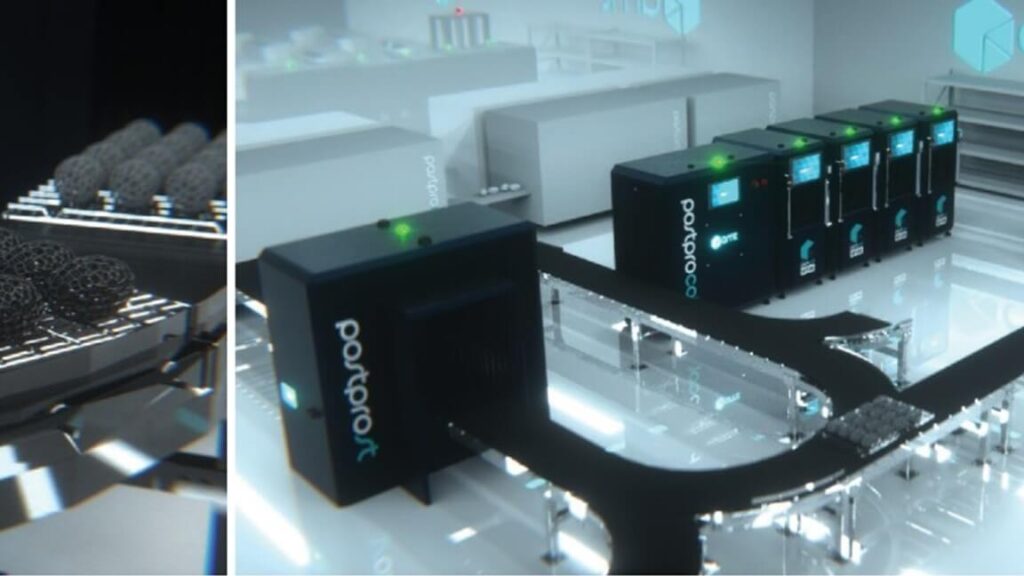 Outline of the Collaboration
OECHSLER is one of only a few companies worldwide that can offer series production in 3D printing on a global scale. To further industrialize powder-based 3D printing processes, OECHSLER has partnered with AMT, leading AM post processing company to develop and integrate a fully automated end-to-end post processing cell into series production. The 1.5-year project also includes a seven-figure investment and is expected to conclude in 2023 with the commissioning of a full end to end production workflow capable of running 24/7 with limited user intervention.
Background of the Collaboration
3D printing is a manufacturing process that is used not only for prototyping, but also for producing end-use products for real life applications. However, all 3D printed parts require post-processing after they are printed, to achieve the same look, feel, and performance as their traditionally manufactured counterparts. Traditional post-processing methods are done manually and can account for up to 60% of the parts' cost, and therefore make 3D printing unviable at scale.
AMT has developed an automated post-processing technology platform, the PostPro Digital Manufacturing System (DMS), which automates the manual and costly steps associated with traditional 'low-volume and prototyping' post-processing methods and enables functional 'high-volume end-use parts' production from 3D printers. The automated lights-out production system includes unpacking, depowdering, chemical vapor smoothing, secondary post processing, and part sorting and inspection. The DMS platform developed by AMT delivers an order of magnitude improvement in cost, quality, safety, and throughput in the manufacturing of 3D printed parts.
Comments from officials
Mr. Joseph Crabtree, CEO and Founder of AMT:
"We are proud that OECHSLER has partnered with AMT to integrate the fully automated end to end post processing cell that we are developing. We are confident that this solution will enable OECHSLER to industrialize their additive manufacturing capabilities on a global scale."
Dr. Claudius M. Kozlik, CEO of OECHSLER:
"Polymer-based additive series manufacturing has established itself as another innovative production technology at OECHSLER. We are already realizing veritable high-volume projects in the key industries of automotive, sporting goods, medical technology as well as manufacturing
with our globally more than 150 installed 3D printers. Thanks to the expansion of our site in Ansbach-Brodswinden and the fully automated end-to-end post processing by AMT, we will be able to offer our customers an even broader technology portfolio in the future."
About AMT
AMT is a 3D printing technology company dedicated to unlocking 3D Printing as a viable alternative to traditional manufacturing. AMT was founded by CEO Joseph Crabtree in 2017, following his decade long experience in the traditional manufacturing industries, and now employees over 100 people in the UK, Hungary, the USA, and Taiwan.
About OECHSLER
Founded in 1864 by Matthias OECHSLER and still located in Ansbach/Mittelfranken, OECHSLER AG is a leading polymer-based technology company supplying customers worldwide in the automotive, healthcare, industrial technology and sporting goods sectors. In addition to manufacturing precision polymer parts and assemblies, OECHSLER AG also offers services in product development, prototyping, product management and highly specialized tooling.
About 15th Rock Ventures
15th Rock Ventures is a venture capital firm that invests in human augmentation and information technology with the aim of creating a prosperous society in the age of 100 years. The definition of human augmentation is to create a world where people can improve their physical abilities, acquire various skills that were previously impossible, and have more options in life by combining multiple elemental technologies such as AI, robotics, electronics, AR/VR, and brain-machine interface.
The name of fund: 15 TH ROCK VENTURES FUND 1 L.P
Founder / General Partner: Tetsu Nakajima, Takeshi Minamoto
Address: Tokyo, Japan
URL: https://15th-rock.com/en
PRESS CONTACT
15th Rock Ventures limited liability business partnership 
Asami Toyoda
Email: contact@15th-rock.com